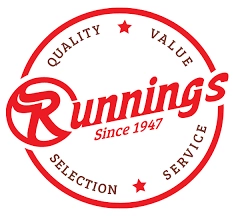 What is Runnings Insider?
Runnings Insider SMS messages notify customer of special offers, sales and events up to 6 times a month. Runnings reserves the right to change message frequency at any time.
How do I sign up for Runnings Insider?
Join Runnings Insider by texting RUNNINGS to the short code 59957. You will only receive Runnings Insider up to 6 messages a month. Runnings Insider messages are not mobile spam. You are not required to consent to receive text messages in order to obtain product and services from Runnings.
Program Terms
Is it free?
Although all Runnings Insider messages are complimentary, messages and data rates may apply. Depending on your text plan, you may be charged by your carrier.
What if I don't want to receive any more promotional/alert messages?
To Stop receiving any Runnings Insider messages, simply text "STOP" to the short code 59957. After doing so you will no longer receive any messages from Runnings Insider. Runnings must be notified if your number is changed or deactivated.
What if I want back in?
You can start receiving Runnings Insider messages again by following any of the steps outlined above section: "How do I sign up for Runnings Insider".
What if I want more info?
Help: At any time, you can text HELP to the short code 59957. Texting HELP will return the following message: For more info on Runnings Insider email info@runnings.com or call Text "STOP" to Stop. Msg&Data Rates May Apply.
$250 Runnings Giftcard Sweepstakes Entry:
When prompted, reply with your valid email address to Runnings Insider. By doing this, you agree to be subscribed to Running's email communication list. You may unsubscribe from this list at any time by clicking on the unsubscribe link on the bottom of the email you receive. You will also be entered for a chance to win a $250 Runnings' giftcard. Official sweepstakes rules can be viewed here: www.runnings.com/email-offer
Supported Carriers:
AT&T, T-Mobile®, Verizon Wireless, Sprint, Boost, U.S. Cellular, Cellular One, MetroPCS, ACS/Alaska, Bluegrass Cellular, Cellular One of East Central Illinois, Centennial Wireless, Cox Communications, EKN/Appalachian Wireless, GCI, Google Voice, Illinois Valley Cellular, Immix/Keystone Wireless, Inland Cellular, Nex-Tech Wireless, Rural Cellular Corporation, Thumb Cellular, United Wireless, West Central (WCC), Cellcom, Cellsouth, Cricket, and Virgin Mobile.
Additional Information
T-mobile and other mobile carriers are not liable for delayed or undelivered messages. By subscribing to Runnings Insider, you agree to receive auto-dialed marketing messages and to receive text messages at a telephone number that is unambiguously designated by the user. Terms & Conditions are subject to change.