Runnings Gift Registry Help
Looking for help on using the Runnings Gift Registry? We put together this guide with instructions on the following topics. For more assistance, visit any Runnings store location, or contact us at support@runnings.com.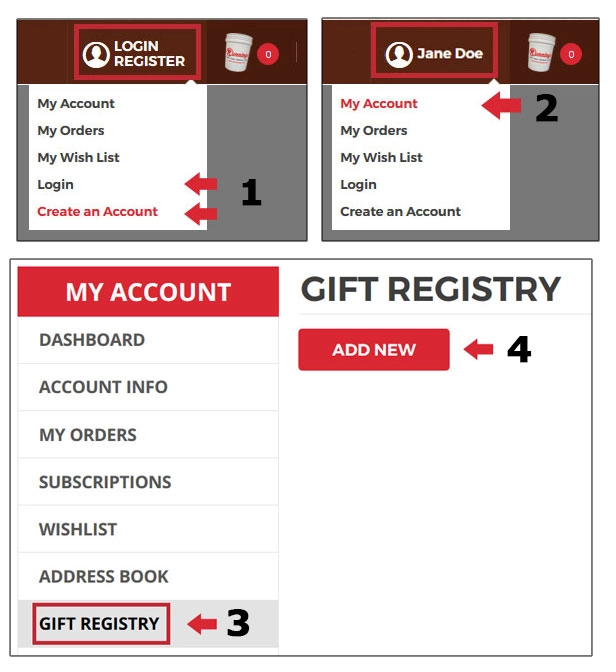 Creating a Gift Registry
Create or Login with a Runnings account: Visit Runnings.com and select Login/Register from the navigation menu. Select Login for a pre-existing account or Create an Account.
Access your account Gift Registry page
Once logged in, click the profile button and select My Account to navigate to your account dashboard.
From your account dashboard, under the "My Account" navigation, click Gift Registry.
Create a New Registry
On the Gift Registry page, click Add New to create a new registry.
Follow the steps to set up your gift registry.

Select the type of Gift Registry to create: Birthday, Baby Registry, or Wedding and click Next to continue

NOTE: This cannot be changed once selected

Complete the form with your registry information. NOTE: An asterisk (*) denotes a required field
Once complete click Save

You will be returned to the Gift Registry page, where your new Gift Registry will be listed with options to manage it.

Use the Edit option to update any of the Registry information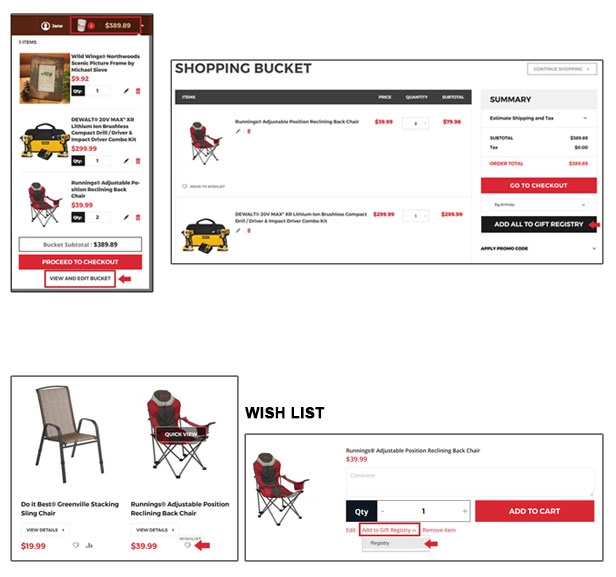 Adding Items to Gift Registry
Once your registry is created, you can start adding the items and quantities you would like. Items can be added from either your Shopping Bucket or from your Wishlist.
Adding items from the Shopping Bucket
This option works well for adding a lot of items at one time.

Browse the website, adding items to your Shopping Bucket with the desired quantities
Once all your items are added, proceed to the Shopping Bucket page

Click the Shopping Bucket icon in the navigation menu
Click "View and Edit Bucket"

Select Add All to Gift Registryfrom the right side of the page

All items in your Shopping Bucket will be moved to your Gift Registry
You will have the option update items and quantities from this page
Adding items from Wishlist
This option works well for adding individual items, one at a time.
Browse the website, adding items to your Wish List
Navigate to the My Wish List page
Click on the "Add to Gift Registry" option under each item to be added and select which registry to add the item to. Your item will be added to the registry and remain in the Wish List.
Once finished, proceed to the Gift Registry page to review items and quantities
Managing Gift Registry

To manage a Gift Registry, visit Gift Registry page menu under My Account. From here you can Manage Items, Share the registry, Edit registry details or Delete your registry.
Manage Items: this feature will allow you to update quantities, add a note or delete an item. Click Update Gift Registry to save your changes. Click Gift Registry to return to the menu. NOTE: You cannot add items to your registry from this page.
Share: this feature also you to invite others to view your registry. To send an invitation email to you invitees, enter your invitee name and email address; share with multiple people at one item by selecting Add Invitee. The invitation email will include your name and the message you enter, along with a link to view and purchase items from your registry online.
Edit: this feature allows you to update the information you entered when you created your registry. NOTE: to allow your guests to search for your registry online, must be Active and the privacy set to Public
Delete: this link will permanently delete your registry and all the items associated to it. Do not click this unless you are certain you would like to delete the registry.
Searching a Gift Registry
Visit www.runnings.com/gift-registry or scroll to the bottom of the website and click on "Gift Registry" under "My Account"
Search for a Gift Registry by:

Registrant's First and Last Name
Registrant's Email Address
Gift Registry ID: the id is listed on the "Share Registry" email when invited by the Registrant.

Select "view" on the registry search results to view the registry details and requested item and quantity.
Purchasing from a Gift Registry
Items from the Gift Registry can be purchased either online or in a store location.
Purchased Online: Select items and indicate quantity from the registry list. Use the "Add to Cart" button to add the items to your shopping bucket. Proceed with checkout and the Gift Registry will automatically update the "Quantity Fulfilled" with the purchased items.
In-Store Purchases: If you choose to shop in a Runnings store location, please notify the store associate that the item(s) are being purchased for a Gift Registry. Provide the associate with the following information:
Registry information (Registrant's name, email, or registry ID)
Item(s) and quantity purchased for the registry

Store Associates will contact support@runnings.com with the provided information to update the registry.